When I first opened Animals First, I was a solo pet sitter. That worked out for first few years, but as my business grew, I realized that in order to provide care for all my clients whenever it was needed, I was going to need some help, and would need to find like-minded people who would take excellent care of any animals in their charge. I am grateful to have these folks on my team. They all have their own talents, and are great to work with.
Kate O'Reilly
It's been a privilege to be able to provide pet care services to many of Bremerton's wonderful animals and  people since 2004.
Animals have been a focal point for me for as long as I can remember. I've had pets my whole life, and I've earned most of my living working with animals in whatever way I could from the age of 16.
I've cared for birds in a bird store, worked in busy animal shelters, facilitated rescues, and co-owned a horse-drawn carriage service. My main hobby since 1990 has been training my dogs for competition sports. All of my past experience has contributed to giving me a great skill set for this profession.
When I'm not working, I'm most likely training my young Airedale, Zippo, who is both a great teacher and student.  A sweet tabby kitty named Olive completes our little trio.
Brandi Jensen Allred
Brandi joined us in July 2017. Before coming to Animals First she spent time living in Japan, and in a previous life she was a professional archaeologist. Through it all she has owned and loved all animals. Her experience includes dogs, cats, reptiles, small animals, and a menagerie of farmyard creatures. She is passionate about animal welfare, and has volunteered for shelters in the past. She loves dogs of all kinds, especially her Great Pyrenees, Leonitus. She shares her home with two cats, Chunk and Calypso, who alternate between wreaking havoc and being extraordinarily cute.
Charlotte Coffey
Charlotte joined Animals First in 2010 and is our resident cat whisperer. Many shy felines warm up to her quickly. She loves to groom, pet, play with, and give treats to pets.   Before joining us, she worked many years as a sign language interpreter for public schools in IL and CA. She is owned by Greta, a German Shepherd, and her 2 cats, Tinky and Leo.
When Charlotte is not pet sitting, she's likely to be hunting for treasures at thrift shops, garage sales and other quirky, random places she sometimes happens upon.   She sells her finds from a booth at the weekly Uptown Mercantile Flea Market, which is open on Saturdays in downtown Bremerton.
Em Thurgood
Em is a lifelong animal lover and has been with us since Sept. 2016. She is a considerate, warm and dependable person who loves walking dogs and caring for all animals. The Olympic College welding student is a fan of reptiles and is experienced with snakes, lizards, and turtles. She especially loves her pet iguana, Nini.
Bill Wilson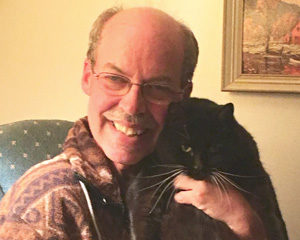 Bill and his cat, Phoebe, live in Bremerton from April thru October and when Bill is in town, he is available for pet sitting and dog walking. The rest of the time they are in AZ, enjoying Bill's retirement from PSNS. Bill is very conscientious and loves caring for all types of pets. He is good at making friends with shy kitties and loves walking dogs and being active. He has been a friend of mine for years, and has turned out to be a great pet sitter!